Ladies Class
The Prime BJJ women's team has been growing steadily since 2016 when coaches Mo and Ali started the program. Women have been training at Prime BJJ since its opening in 2012 – but now our WOMEN ONLY classes are exploding with new members.
Coaches
Mo Black and Ali Varallo are both accomplished athletes who offer a friendly, welcoming experience to women BJJ students. They've been studying the art of Jiu-Jitsu under Prime's Head Professor, Marcelo Motta, since 2012. Now Ali and Mo instruct the women's class and provide an environment that allows women to learn BJJ while training with opponents who are of the same size.
​
Both women are successful competitors as well as coaches in the Kids Program at both Prime BJJ and VillaSport Athletic Club and Spa. They're friendly, but tough – follow their example and start training BJJ too!
Mo Black  – Coach Mo Black is a local and state star who has been competing since 2012. She is currently undefeated in the elite, world-class Fight to Win Pro tournaments.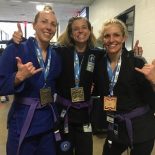 Ali Varallo – has won countless state tournaments as well as recently earning a bronze medal at the highly esteemed IBJJF Pan American Championships.
There are a lot of reason's why you should train in BJJ. Here are just a few!
Self Confidence- Feel good about yourself as you learn new skills that enhance your life.
Self Defense- Learn how to defend yourself! There's a lot of peace of mind that comes with feeling safe.
Fitness- Get in shape and lose weight while you're busy learning technique! That's more fun than counting reps 🙂
Community- Meet new friends and develop a new hobby while you train together.
We hope you'll join us for class on Tuesdays and Saturdays at 9 am!
Prime has uniforms you can borrow while you're checking out the FREE classes in October. Just come to class about 15 minutes early if you need to borrow one, and wear a t-shirt and shorts (or workout pants) to wear underneath. We'll see you then. If you have questions in the meanwhile, feel free to ask us using our form below.