TEAM PRIME BRINGS HOME A LOT OF GOLD JUST IN TIME FOR THE HOLIDAYS!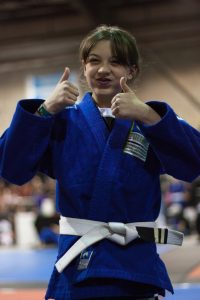 Saturday's Fight to Win Zingano Memorial Cup in Denver let Prime showcase some up-and-coming students, and saw the comeback of one of our hardest working athletes. With Professor Marcelo keeping a close eye on his students, the Carlson Gracie lineage was on full display.
Prime teens Mark McKinney, Creedence Weiss, and Eliana Garcia-Fernandez and Tiffani Vandergriff (pictured left), and youngster Ian Andrews all fought hard. Tommy Digeriango got two cross collar chokes from guard!
Abby Rullan took silver in her yellow belt division, as did Nick Ditzler in his. Nick Ditzler also won bronze in his No Gi division, while Lincoln Weiss and Kirstin Varallo each took first in their divisions.
Mo Black (pictured right) didn't waste any time proving Black is Back. She cleaned out both her No Gi and Gi divisions, emphasizing armbars!
Hugo Calendar, Spencer Smith, Levon Fernandez, Michael Alvarado and Dominique Flores all fought multiple matches. Daniel Calvert snapped up silver and gold. Viktor Gillcze fought late in the day but kept it Prime when he took second in the Gi. Logan Burch also put it on the line in the blue belt division.
Some impressive De La Riva work from Thiago Alvim (pictured left) got attention from the crowd. Anson Park threw himself into the Advanced No Gi division against two black belts and took silver.
Through parents, siblings and teammates, the Prime Family raised its voice and proved that at Prime, even though you step onto the mat on your own, you're never alone.
Special thanks to Ryan Palmer Photography!